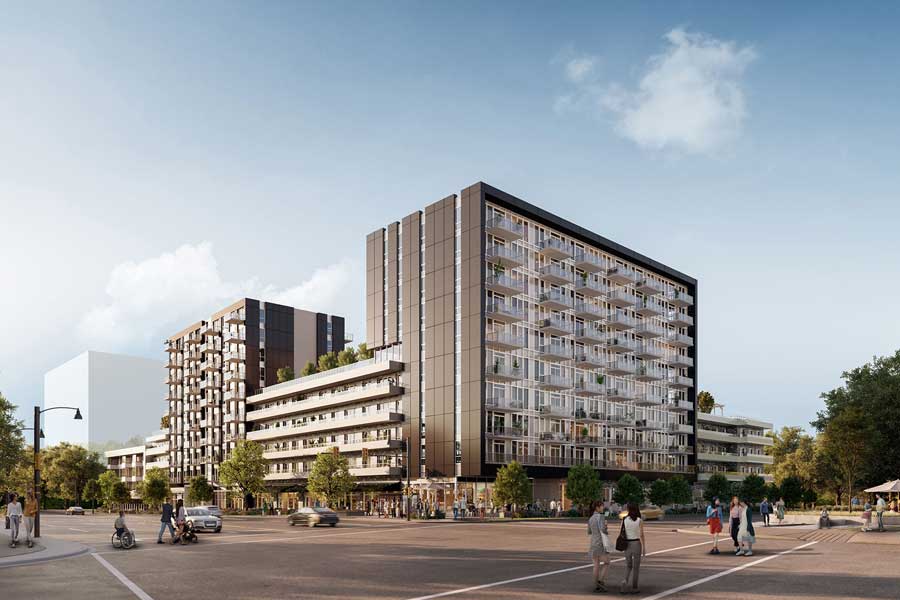 Mixed-use building of 4, 5, 10 storeys
217 condominiums
Developed by Coromandel Properties and Peterson Group
located at Kingsway & Earles
Estimated completion: Fall / Winter 2025
A masterclass in the fundamentals of good real estate, Frame is your first opportunity to buy in Vancouver's most connected urban centre. The arrival of a bold architectural landmark to such a central hub makes Frame a true growth opportunity and the best value for concrete homes in all of Metro Vancouver, period.
1 Bed - 527-537 sqft - From high $600K
1Bed + Den - 515-619 sqft - From low $700K
JR 2 Bed - 636-691 sqft - From low $800K
2Bed - 744-817 sqft - From low $900K
2 Bed + Den - 719-856 sqft - From mid $900K
3 Bed + Den - 963-1127 sqft - From low $1.1M
Parking - Limited time, included for all homes
A Bold Architectural Statement


The work of award-winning GBL Architects, Frame is the first of what's new and next in its neighbourhood. Bordered in black, its anchor building catches the eye immediately. Perched above retail and directly across from an expansive new community plaza, it's designed to be the area's energized hub. As it wraps around the corner, it opens up a wealth of views, through Downtown Vancouver and North Shore Mountains up to Metrotown.

Vancouver's Most Convenient and Connected Neighbourhood


Perfectly central between Downtown and Metrotown, Frame enjoys a privileged location near 29th Avenue, Nanaimo and Joyce—all neighbourhoods with rapid transit ease and primed for significant growth. The 29th Avenue SkyTrain Station is only a 10-minute walk, with one-stop connection to Nanaimo and Joyce. Metrotown and its shopping centre of more than 300 stores is only a 10-minute drive away.

Views from Downtown to Metrotown


Drawing the architectural story in, homes at Frame are shaped by light and eyeline. In two colour palettes, the interiors instill a sense of calm through wood, stone and crisp, black detailing. Big windows let in lots of natural light while highlighting the city skyline and evergreen mountains in the distance. Every bright, airy space is designed to effortlessly flow into the next—a cozy bedroom to a sun-filled living room to an open balcony looking onto the city and mountain views.
Testimonials
" From start to finish, Jeffray Hongs provided 5 star service. Jeff had the daunting task of helping us find a house after we have already been searching actively for the past few years. What separates Jeff from the rest? Many things I would say. Firstly he was very patient with us, in the past when we had other realtors they may have given up on us due to the amount of time we were taking, as it's not an easy purchase to make we needed to take the time to find the right place. Jeff attended countless open houses with us all throughout the lower mainland and carefully scheduled all viewings in a manageable and efficient timeframe. He was great to answer all our questions every step of the purchase process. Another major bonus with Jeff was seeing the process through. We finally won a bid for a house purchase but his service didn't end there. We had some issues after possession day and many realtors I suspect would say their job is complete and they would move on. Not with Jeff though, he ensured and is still continuing to provide excellent service as we still have ongoing issues after possession day. After possession the previous owner left behind items including a piano and Jeff has diligently tried to make arrangements from the seller realty side. Despite that side being unresponsive he didn't give up and continued to work to ensure justice was served. If Jeff was a comic book character he would likely be the Realtor of Justice, ensuring everything is made right. If you want a realtor who will take the time to really get to know what your buying or selling needs are, look no further. I found Jeff to provide us with the respect and attention we required in order to complete the transaction. Give him a try, I bet you won't be disappointed. "
- Andrew W.
" Jeffray is the best! He is professional and great to work with. In my case, I need to sell my apartment first and so I can have my downpay to upsize. He did a great job, my apartment was sold with multiple offers, and over asked price!!! we felt lucky to find Jeffray! "
- YSYQ
" Great experience from start to finish. Jeff will listen to you and I felt that he truly cared. I highly recommend him to anyone, he is genuine and he makes you comfortable from start to finish. He is professional and he has helped the whole process as stress free as possible. I knew I can trust him. Thank you Jeff! "
- Christine Y.
" I have only great things to say about Jeffray. On time, focused on client, not pushy, gives enough space and offers assistance without expecting anything in return. Builds long lasting relationship, where you feel like you get a friend instead, not a real estate person. If had more than two thumbs all of them would be up. Huge hugs Jeffray, you rock :) "
- Elxan N.
" Highly recommended! Jeffray helped me with my first house purchase in June 2019. Buying a house with a tight budget was not an easy task, and anytime there was a house that meets my criteria , he moved fast. In addition, he also brought me and my family to many many open house events, then we gradually built up an idea that what kind of house fits my family situation. Finally I found my dream house and all my family member love it. "
- A W
" Jeffray did a fantastic job on both occasions - representing me as buyer and seller. On buying. We were originally shopping for a used condo and Jeffray was able to organize our visits on a single day. He researched the condo market in the towers we were going to and gave us his professional opinion on them. He also sent me other similar units as well. After viewing the used condos, we decided that we could stretch our budget to purchase a pre-sale instead. On short notice, he came with us to the presentation centre and acted in our best interest. Jeffray was very patient with us and understanding of our situation. He helped us get a fantastic deal on the unit and we couldn't have done it without him. On selling. Jeffray is very meticulous and took detailed notes while doing a walkthrough of my unit. I wanted to advertise my unit without the "salesy" grammar. I was very impressed with the photos, write up, and staging of my place. I believe that his advice on staging was the reason why my unit was sold within a week's time ABOVE ASKING! I would not hesitate to ask Jeffray to help me a third time with my housing needs. He treats you like family and listens to your criteria and concerns. 10/10! "
- Joey M.
Previous
Next